Danang is a destination for many leisure activities. Recently, two attractive, novelty and adventurous sport activities have appeared – riding the rapids and zipline.
These activities are appealing because they are adventurous activities that require a lot of players. Players can have self-organize races to find the winner. If you go alone, do not be sad because you can play with other people. You can play, splash and race on water falls with different heights. These activities will give a fully innovation, adventurous and surprising feeling.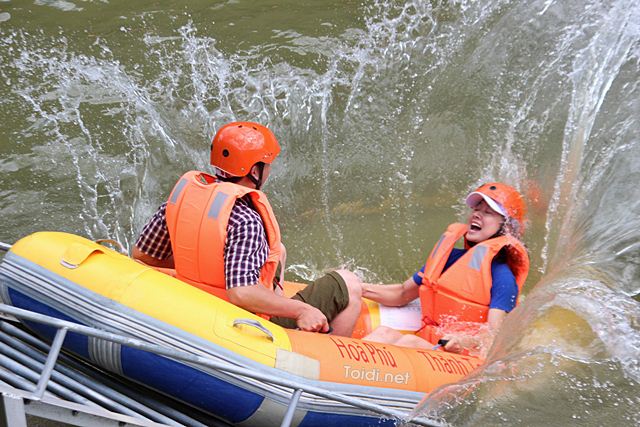 Hoa Phu Thanh Resorts
Phu Thanh Hoa tourist resort is located in Phu Hoa ward, Hoa Vang, Danang city. This is a complex resort with many recreational sport activities including riding the rapids, zipline, fish massage, hotels and restaurants with traditional rustic dishes.
From Danang you can go along the path to Ba Na - Truong Son road, then turn to the DT604 (road to Prao, Dong Giang) until you reach Km20. Actually, there are signposts on the left the road.
There are also private hostel service and stilt house that can contain over 200 guests. If you don't want to go overnight you can take a haft day trip with your food. This tourism area has private hut and sedge mat rental service. Usually, you can enjoy your time and lunch here.
Riding the rapids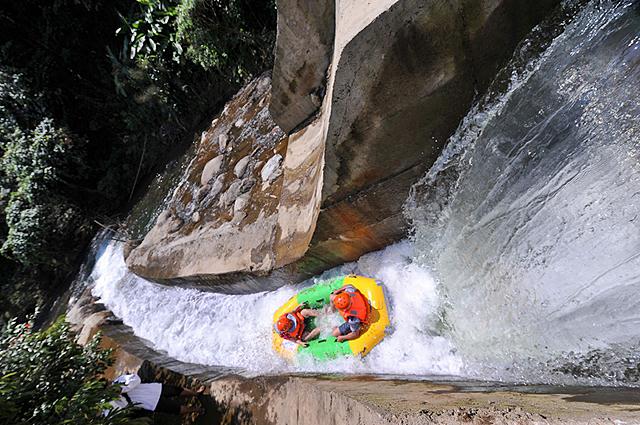 The most attractive sport in Hoa Phu Thanh is riding the rapids. Each boat can contain two people. There are 2 shifts in a day: 10 am and 2 pm so you should plan your trip carefully to get there on time. It costs 180,000 VND / person for about 30-45 minutes, depending on the number of players.
Before starting, you should change your swimming suites. Personal belongings, valuables like phone, wallet should be put in lockers. After preparation completed, life jackets, helmets must be worn. You should also listen to game manual (how to sit on the boat, how to move and avoid obstacles ...) to know how to play.
Starting point is about 1km from the resort entrance so you will be brought there by transit vehicle. There, 2 people on a boat will slip down the lake, then until everyone is ready, the staff will open the gate for water to go downstream and the journey of 3km to pass water rapids with different heights is officially started.
Notes on riding the rapids:
You should dress neatly and wear swimsuits
If you want to take pictures with your phone, you should bring a waterproof case. This area has photographic service, but they will charge 5000 VND/a soft file photo (sent by email or usb).
Protect your head from colliding to cliffs.
Prepare: towels, clean clothes.
Children under 14 years old are not allowed to participate in this game.
Zipline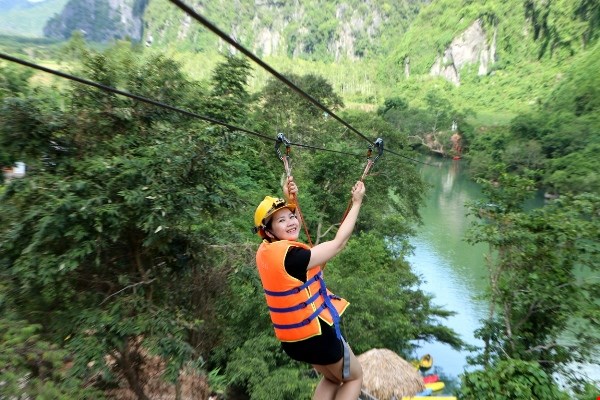 This is a new game, launched in 7/2015 with 2 safe ziplines. Ziplines have fast speed due to short line, so many people may not satisfy. However, this creates an initial feeling for players at every time playing this game
There is no official price but the promotional price is 50,000 VND/player/time. This game is not difficult, you just need to wear full protective gear and check it before sliding. You can play this game after finished riding the rapids.
Fish massage
 
It isn't a new service because many resorts in Viet Nam and Southeast Asia countries already had it. Fishes are toothless and they use their mouths to suck dead skin, so it's quite safe for tourists. If you've never tried before, you can enjoy it when resting.
Resting pavilions
 
This is also an ideal resort for picnics where you can go in one day. After participating in games, then you can take a nap here in the area were built hut. You can self-eating, resting and relaxing. The lodges are located in the first district area called the Village Song Sedge (1 village name Tu) in the past in this area has moved away. The Management Board has retained the traditional houses of the village so visitors can learn more about the architecture and culture of the village. Rents hut from 200k - 600k, depending on area of use corresponds to the number of people in the delegation.