Da Nang, the city of bridges is considred as a green clean and beautiful tourist attraction with many charming destinations and excellent, tasty and irresistible cuisine.
Located in the center of 3 world cultural heritages: Hue imperial city, My son sanctuary, and Hoi An ancient town, Da Nang has become an ideal destination.
Wandering around the city to enjoy the atmosphere of the Central area, you can feel the difference of an environment-friendly tourist city with its specialties. Food in Da Nang is delicious, nourishing and affordable.
1.     My Quang – Quang noodle
Almost everyone knows about a famous noodle dish called My Quang in Da Nang with thick rice noodles. Quang noodle recipe is very diverse with rib noodle, catfish noodle, eel noodle, crab roll noodle. However, the most popular one is noodle with shrimp, chicken, eggs, and meat. Especially, roasted peanuts and crispy rice paper with sesame are indispensable ingredients. A bowl of My Quang can only be served after broth is added. When eating, people should mix it well with raw vegetable like fresh lettuce, basil, bean sprouts, and julienne banana flowers to create a wonderful mixture.
Thick, dry, big and rude noodle is the spirit of My Quang
There are a lot of My Quang restaurants that are operated until 10 am on Hoang Dieu, Phan Thanh, Trung Nu Vuong, Hoang Hoa Tham streets and others opened all day on Nguyen Huu Tho, Nguyen Cong Tru Streets. Prices are not equal in different position. For instance, a big bowl is about 13000 – 25000 VND with 3,000 VND grilled rice papers.
2. Goi ca Nam O - Nam O haft-cooked fish salad
Although a few people don't dare to try this haft-cooked dish, Goi Ca Nam O is an addictive dish to many other people. It may be made from sardine, anchovy but the most delicious one is herring. Maker will remove herring's heads, tails, and belly and fillet them. Then, slightly press the fillets to extract some juice; then, marinade with ginger, galingale, minced garlic, and powdered grilled alpinia.
The fish juice is boiled and mixed with Nam O fish sauce, chili, tapioca starch and seasoning powder to create specific sauce. Vegetables served with Goi Ca Nam O is really diverse as bud of forest Ambarella, orchid, and some other special trees that only found in Hai Van Mountain. However, to meet the growing demand of eaters, cucumbers, mangoes, and banana are used.
You will addict to Goi Ca Nam O if you try it.
There are 2 ways to eat this dish. First, eat it directly after mixing raw fish with vegetables and sauce. Second, put vegetables, Goi Ca with powdered grilled alpinia; then, roll, dip in sauce and enjoy it. The taste of sweet fish flesh, charming sauce, warm alpinia, hot chili, and fragrant forest leaves will make you high.
The original Goi Ca Nam O can only found in Nam O. However, you can also enjoy it on Nguyen Tat Thanh Street or Nam O Bridge with only down to 40,000 VND/portion.
3. Bun Cha Ca - Fish cake noodle soup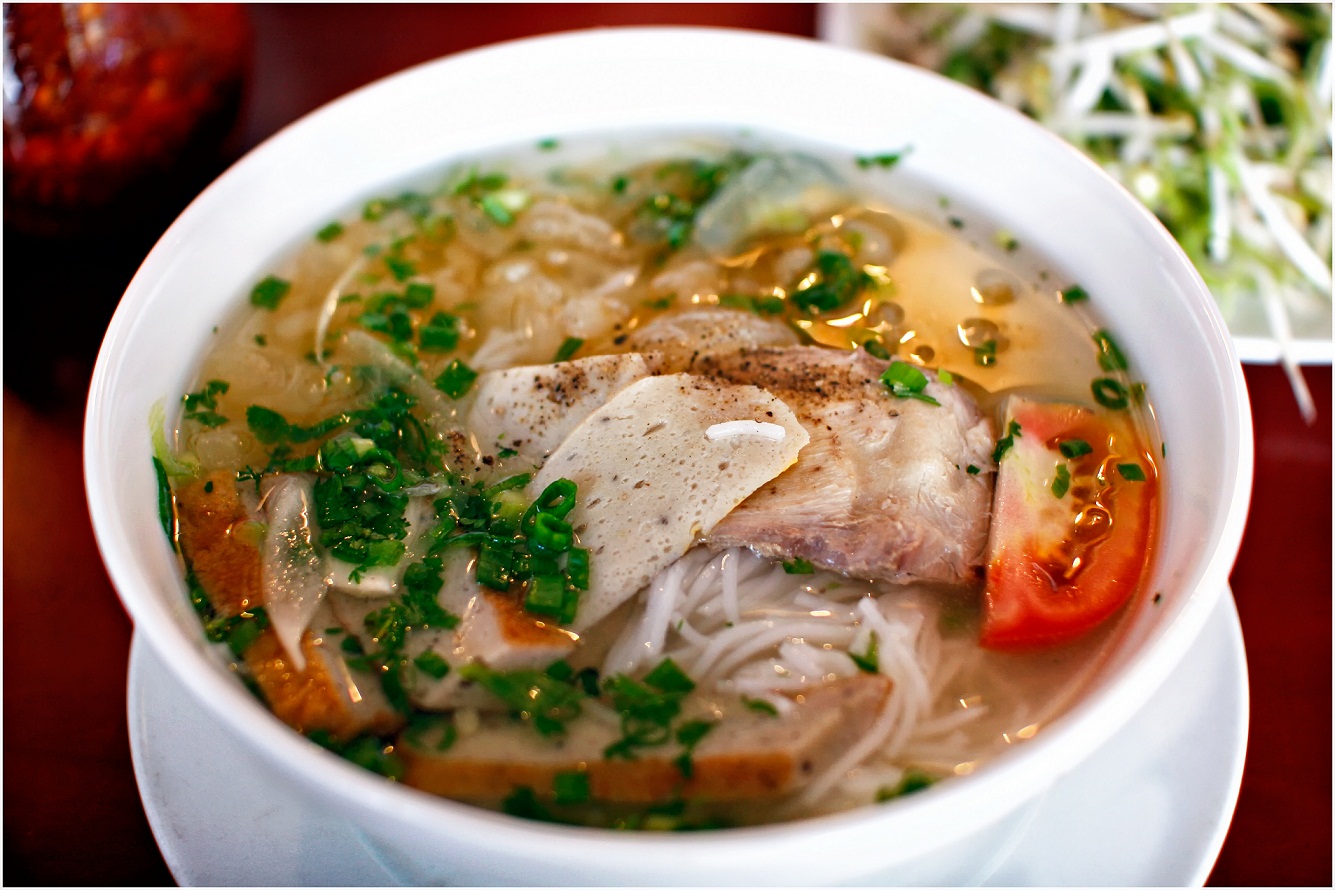 Actually, it's easy to find Bun Cha Ca in the Central of Vietnam. However, that of Da Nang is the most special one. You can't help praising when eating a flavorful bowl of Bun Cha Ca with sweet vegetables and charming broth.
Bun Cha Ca is also served with raw vegetables as lettuce, basil, and bean sprouts. Especially, grinded garlic and chili, and pickle onion are indispensable ingredients of this dish. The sweet but sour onion and hot chili bring an unforgettable experience.
Fish cake (Cha Ca) made from fresh fish and delicious broth create specific Da Nang Bun Cha Ca that can't find anywhere.
In addition to Bun Cha Ca, Da Nang citizens also love fish noodle soup (Bun Ca). Usually, slices of fresh fish like tuna, codfish, or greater amberjack are cooked with brine for a while and eaten with broth and noodle.
There are a lot of fish cake noodle soup restaurants in Da Nang. For instance, on Hoang Dieu Street (next to Hoang Anh Gia Lai building) operated form 7 am to 9 pm, on Hung Vuong Street opened all night, Tran Cao Van Street (opposite Tam Toa Market) opened from 6 am to 10 am. You can enjoy fish cake noodle soup in these restaurants with only down to 15,000 VND.
5. Thit Heo Cuon Banh Trang (pork wrapped in rice paper)
With a simple processing that can suite everyone's tastes, Thit Heo Cuon Banh Trang in Da Nang is famous for carefully selected ingredients that make a perfect taste. Pork butt or shoulder portion only are steamed to keep the sweet taste. Vegetables served with Thit Heo Cuon Banh Trang must be fresh but popular as lettuces, basils, houttuynias, small spring onions, mints, Polygonum aviculares, bean sprouts, julienne banana flowers, cucumbers, and green bananas.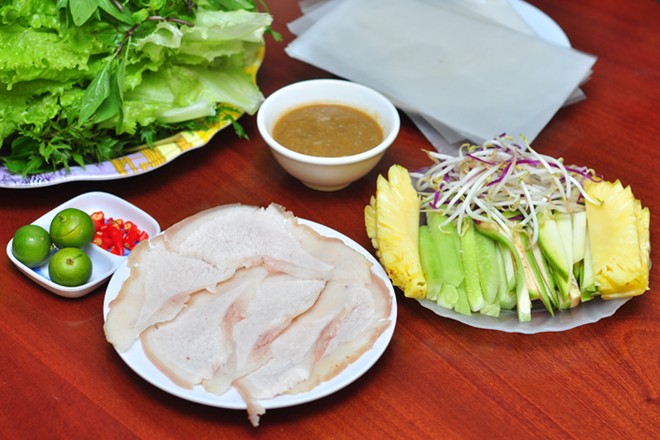 A rustic dish that is easy to suit eaters' tastes. 
Mam Nem (a type of fish sauce with a strong smell made from small fish) - an irreplaceable sauce of Thit Heo Cuon Banh Trang makes an unforgettable flavor. Indeed, tough rice paper and the soft wet rice paper mingled with the sweetness of pork, fresh vegetables and spicy Mam Nem make this dish irresistible.
For a full taste, you should try some restaurants on Chau Thi Vinh Te, Hai Phong, Duy Tan, Le Duan, Do Phuc Thinh with different prices from 30,000 to 80,000 VND.
5. Banh Xeo – Vietnamese pancakes
Danang pancakes are not too small nor too big, just a medium size. The pancake is made from rice flour, egg yolks and turmeric powder and molded on a hot pan. Stuffing are carefully selected, made only from live shrimp, bacon half fat and half lean, fresh bean sprouts. Clean vegetables including lettuce, basil, green banana, and young mustard. The sauce is made from pig liver and crushed peanuts to form fat and fleshy flavored sauce. Besidez there is also a small bowl of chili and garlic fish sauce in traditional style.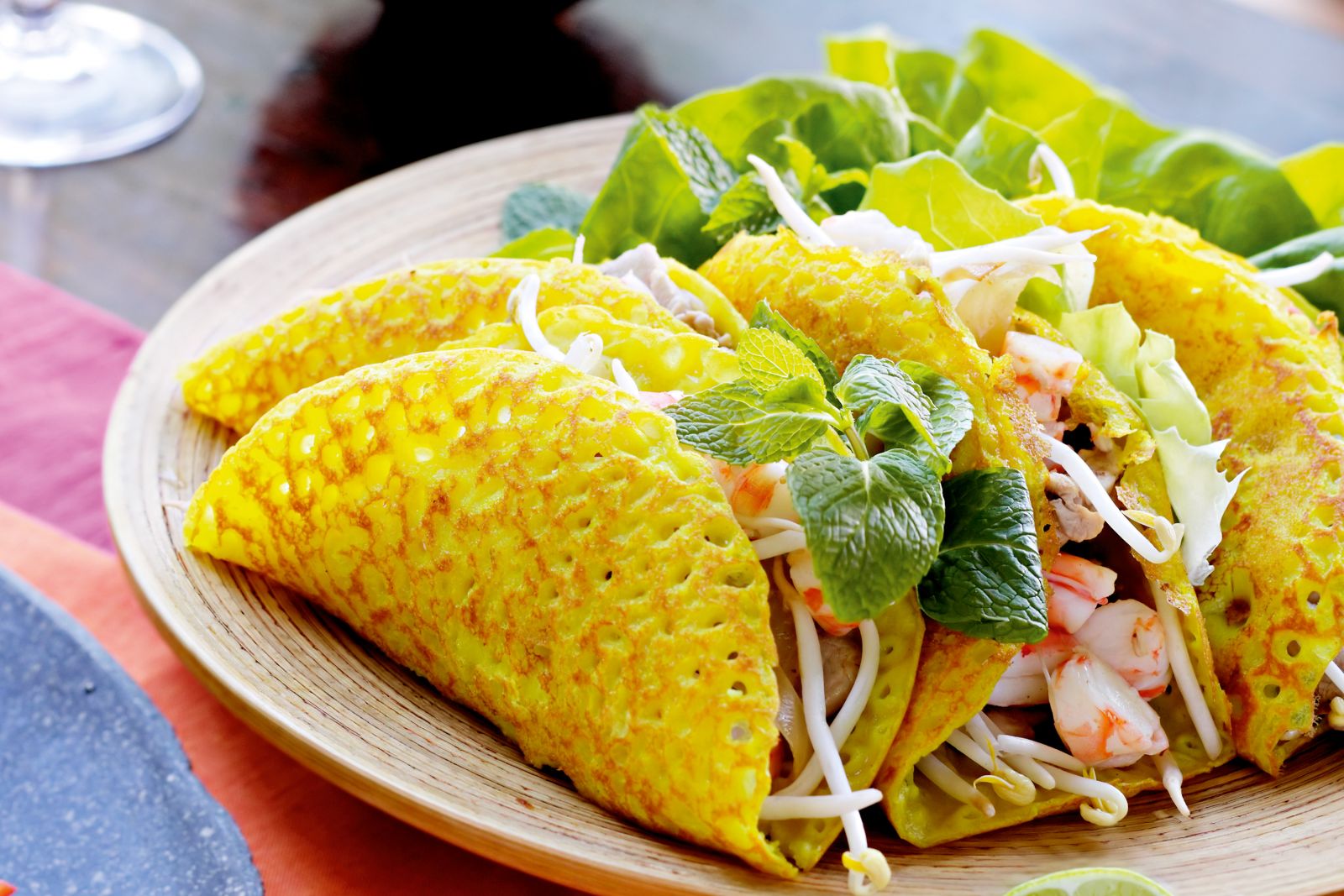 Hand-sized pancake with meat, shrimp and bean sprout stuffing has a really charming taste.
It's better to eat hot pancakes wrapped in thin rice paper or big green mustard leaves. Crispy and fleshy pieces of cake mingled with sweetness of shrimp and pork, fresh vegetables and acrid young bananas will bring you unforgettable experience. Besides, Banh Xeo is also affordable with the price of down to 5,000 VND on Hoang Dieu or Hai Phong Streets.
6. Banh Beo – dirt cake
Banh Beo is an extremely popular dish with Da Nang people by rustic raw materials and taste. Banh Beo here has many types and is differentiated by shapes and eating ways. Banh Beo Tai (ear) is available on dish and Banh Beo chen (small bowl) is prefabricated in a small bowl. Moreover, all type of Banh Beo are covered by "nhun" (banh beo sauce)
"Nhun" is made of shrimp, fish and spices dried over charcoal to eliminate fishy smell. There is also "nhun" made of meat and peziza that bring an eye-catching orange and solid mixture. Banh Beo is also served with Nem Chua (fermented pork roll) and Cha Bo (steamed pork roll). However, fish sauce is a determinant of a good Banh Beo dish. Although, it is just fish sauce mixed with water, lime juice, and sugar, it can be combined really well with white soft Banh Beo.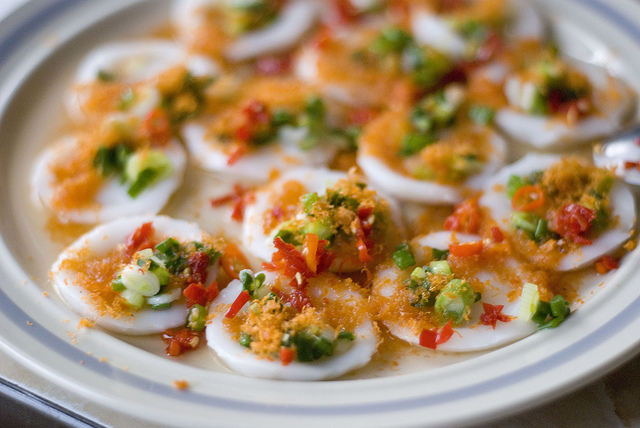 Banh Beo is frugal and rustic but extremely delicious. 
Going to Da Nang and sitting around a Banh Beo load to enjoy Banh Beo and sweet fish sauce with lime smell is so interesting. Banh Beo and other traditional cake can be found in every street, lanes, restaurants and hotels. You should try some Banh Beo restaurants on Hung Vuong (Con Market), Hoang Dieu, Hai Phong, Ong Ich Khiem Streets (opened at noon, from September to February every year). Each Banh Beo costs only 1,500 VND.
7. Be Thui Cau Mong - Cau Mong barbecued veal
Be Thui Cau Mong - Cau Mong barbecued veal is also called Bo Tai Cau Mong - Cau Mong rare veal that is also as famous as My Quang.
Because of its special requirements, the art to singe veal is almost an esoteric, so there are a few people know how to do it. After being taken out of the store, each slice of veal must attain two levels and skin must be cooked to transparent, and moderately soft and crunchy.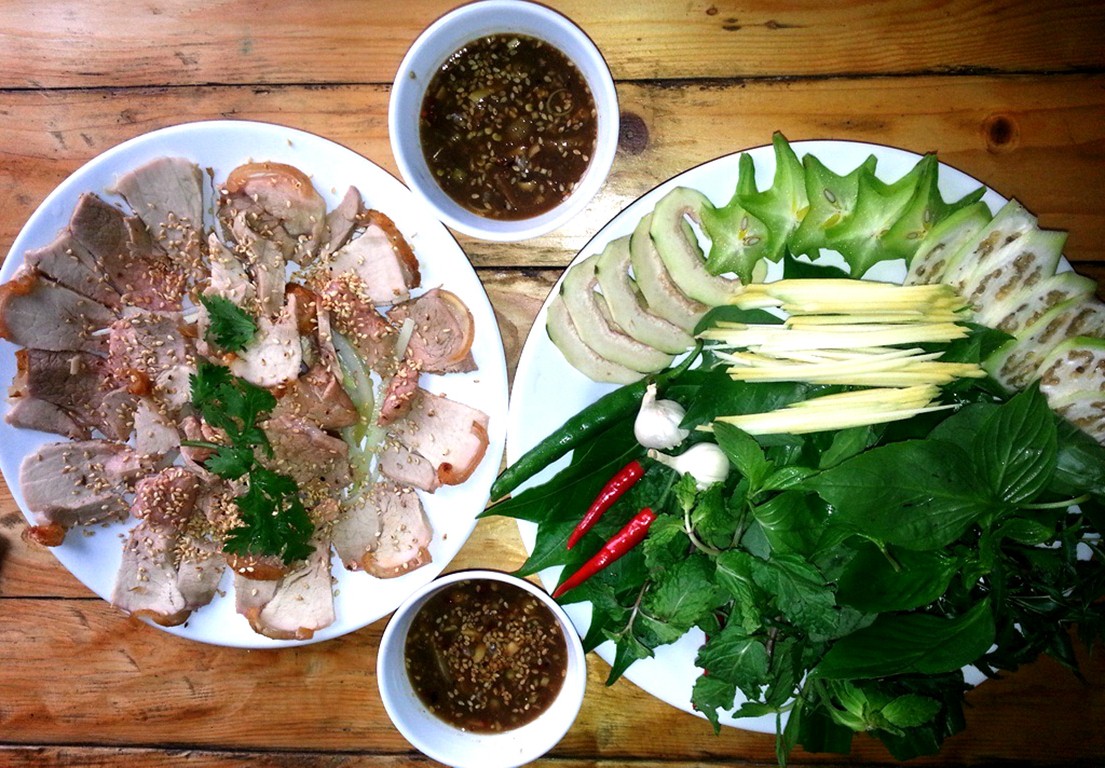 There isn't any Be Thui as special as that in Cau Mong
Sauce and raw vegetables are also important components leading to the success of Cau Mong barbecued veal. Sauce should be prepared from the top-type sauce made ​​from anchovies fished in the central coast. After decanting, the sauce is mixed with some chili, garlic, ground ginger, roasted sesame, lemon. Raw vegetables are really diverse that includes Tra Que basil, coriander, lectures, mustard sprouts, unripe pip banana, star fruit, and bean sprouts.
You should wrap rice paper with vegetables and some slices of veal, dip into the sauce, and chew slowly to enjoy the sweetness and fragrance of this dish. The most delicious Be Thui can only be found in Cau Mong, Dien Ban District, Quang Nam province which is 15 km from Da Nang
8. Che Xoa Xoa Hat Luu - Vietnamese grass jelly dessert
Xoa xoa – grass jelly made from finest flour; Thach Den – black jelly made from a special leaves found in forests; and coconut cream made from pure coconut combine together to create a delicious and cool dissert.
After enjoying the combination of crispy jelly, fat coconut cream and mashed green bean and chewy Hat Luu (tapioca), you can relax yourself. Xoa Xoa Hat Luu is the best refreshment for sunny days
There is nothing better than a glass of Xoa Xoa Hat Luu in sunny days.
There are a lot of Xoa Xoa Hat Luu stores; however, best stores are in Con market or on Tran Binh Trong Street (right in the folk of Tran Binh Trong and Ngo Gia Tu streets), or Phan Thanh with the price of 5,000 VND/glass.
9. Oc Hut - Sucking snail
You can enjoy Oc Hut in Da Nang all year.
Oc Hut is a rustic name of snail stirred with chili and lemon grass that given by Da Nang citizens. Small edible snails as Oc Gao, Oc Buu, and Oc Dang are soaked in water, washed carefully, drained off water, and stirred with chili and lemon grass. Oc Hut recipe is simple but can bring a charming dish. It is interesting to eat spicy Oc Hut and grilled rice papers by hand with friends in Da Nang every afternoon.
Moreover, eating spicy Oc Hut after swimming is an unforgettable experience in Da Nang
10. Mit Tron – unripe jackfruit salad
Mit Tron is made from unripe jackfruit that is well boiled and then chopped to mix with julienne pork skin, crushed peanut, fried onions, sour and sweet fish sauce, flagrant knotweed, and mint leaves. This attracts a lot of people by charming smell and eye-catching colors.
It's insufficient trip to not try Mit Tron with grilled rice paper.
A crunchy piece of grilled sesame rice paper, nutty and sweet unripe jackfruit, chewy pork skin, flavorful peanuts, fried onions, hot chili, and mints create an irresistible taste.
There are a lot of stores that sell both Oc Hut and Mit Tron in the afternoon. Best stores are on Ong Ich Duong (opposite Hoa Tho Textile Company), Pham Van Nghi Streets. Mit Tron and Oc Hut are affordable with the price of 25,000 VND/dish of Oc Hut and 10,000 VND/dish of Mit Tron.
In addition to being a well-known place for delicious, nourish and affordable food, Da Nang has many tourist attractions like Ba Na Hills, Son Tra Peninsular, Marble Mountain, Hai Van Pass, My Khe beach, But Beach, and Bang rapids. Da Nang is suitable for those who love swimming, sunbath, and climbing. What's a wonderful destination for this summer!