The most specific and concise travel manual.
Reasonable time to visit Da Nang
The best time to Da Nang is from January to August. There are a little rain and storm as well as beautiful sunshine in spite of hot climate (due to southwest wind effects from Laos). This weather is particularly suitable for outdoor activities and beach tourism.
October to January is rainy season and October to December is stormy season. January to April is the proper time for economical tourists thank to reasonable service prices. Besides, the weather at this time is pretty cool and there is no storm.
Moreover, if you want to enjoy the firework competition of many counties, you can visit Da Nang in late April and the beginning of May (on 30/04 and 01/05). As a result, 30/4 festival tour is the best choice in Da Nang.
Transportation to Da Nang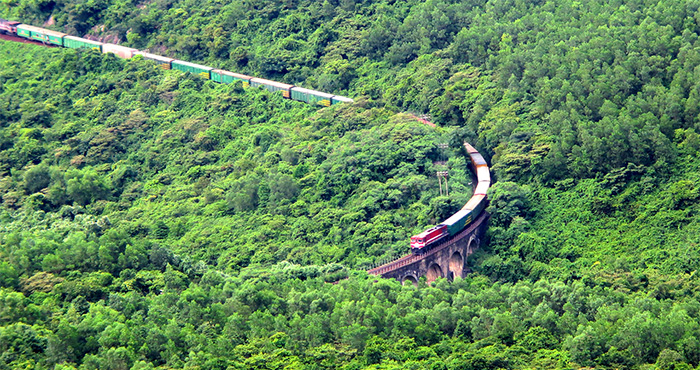 Airline
It's convenient that Da Nang Airport is located in the city center. From Hanoi and Saigon, you can fly to Da Nang by: Vietnam Airlines, Jetstar and Vietjet Air. From Da Nang airport to the city, travelers may use buses, taxis or shuttle services at hotels.
Railway.
Da Nang is the heart of the central that is located on the north-south railway. Da Nang Gas address is 202 Hai Phong Street, Hai Chau District, Da Nang City, Tel: (0511) 3821175 that is 1.5 km north from city center. This gas station is the stop place of all Thong Nhat trains. Visit the website www.vetau.com.vn for more information about time and price.
Thong Nhat trains from Hanoi to Da Nang are SE1, SE3, SE5, SE 7, TN1. Distance: 791km, travel time: about 14 hours (Hanoi Gas: 120, Le Duan Street, Hoan Kiem District, tel: 043.9423697).
Daily Thong Nhat trains from Saigon to Danang are SE2, SE4, SE6, SE8. Distance: 790km, travel time: about 15 hours. Saigon Railway Station Address: 01 Nguyen Thong Street, Ward 9, District 3, HCMC, Tel: 08.39318952.
Road
It is the most economical way to Da Nang. Distance Saigon- Da Nang is about 980km that takes 22h driving, depending on traffic density. Ha Noi - Da Nang distance is 880km that takes 18 hours driving, depending on traffic density. However, it's rather tired due to long distance, many stops and bad roads.
Places to stay in Da Nang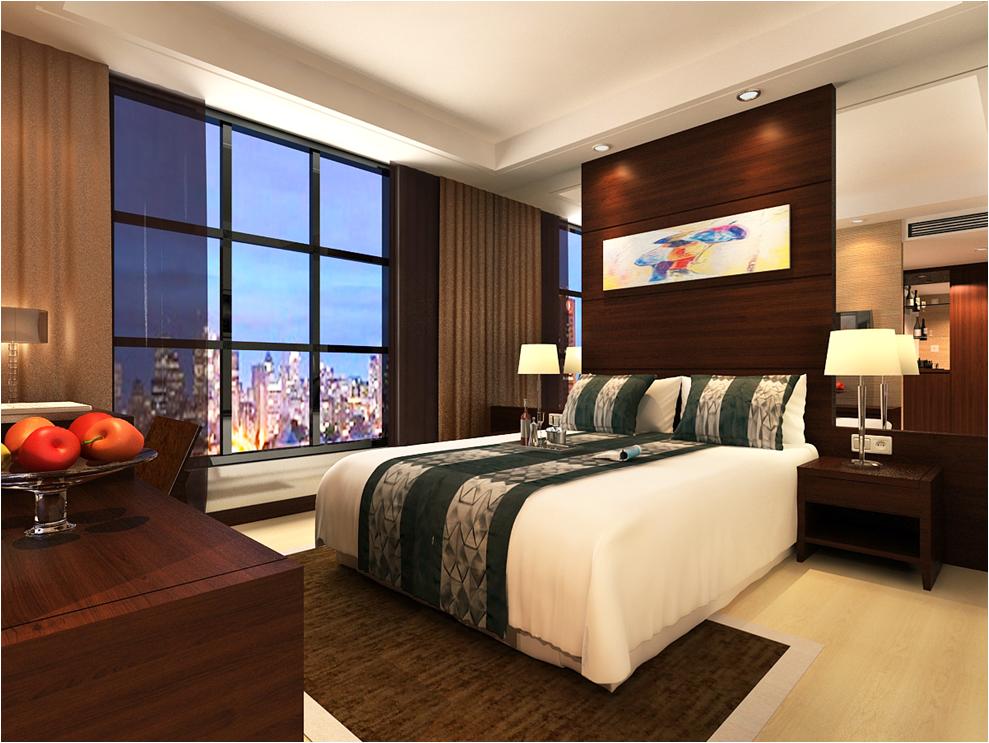 "What are some hotels to stay in Da Nang?" is a common question of tourists to the city of bridges. Being a famous tourist city, Da Nang has a diverse hotel system. There are many resorts, hotels, and motels with various prices and amenities.
Hotel room reservations shall suit your trip purposes and destinations. Hotels here are mainly located in two areas: the downtown and My Khe coast. If you go to Da Nang for business trip, you should choose hotels on Bach Dang (Hai Chau District). Staying there, you will have enough time to move to other places of the city and admire the panoramic beauty of Da Nang with specific icons like Han River Bridge, Dragon Bridge and Thuan Phuoc Bridge.
Meanwhile, seaside hotels are reasonable choices for a relaxing trip. You can relax in fresh air, explore the beauty of Son Tra Peninsula and Da Nang beaches as well as enjoy appealing seafood or watch sunrise and sunset on the beach.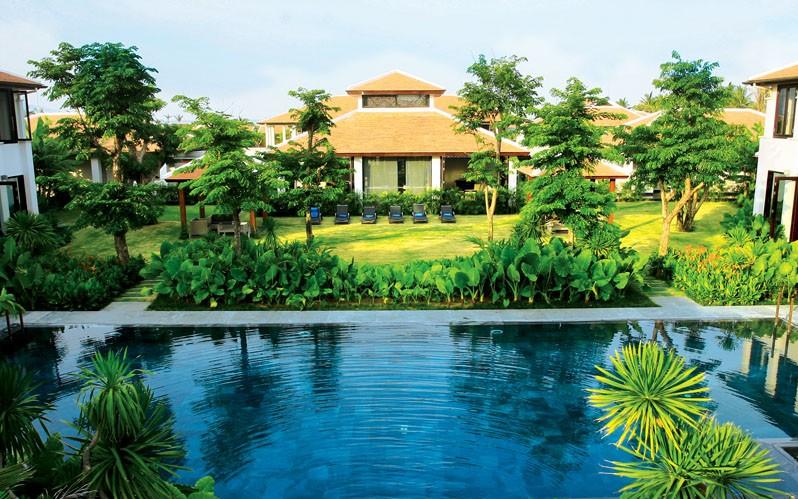 Tourist attractions in Da Nang
CITY CENTRE:
Art Museum of Cham Sculpture (commonly known as Cham Museum) is the only worldwide museum of Cham culture that preserves ancient Cham Kingdom relics.
Hai Chau village communal house: the oldest village communal house in Da Nang
Nghia Trung Hoa Vang: Hoa Que tower relics, Ba Temple, Cham ancient wells, Cham temples and Hoa Que village ancestor house. These are prominent attractions of Da Nang.
Han River Bridge is not only the symbol of Da Nang but also the only rotatable bridge of Vietnam. Formerly, the center part of the bridge can be rotated 90 degrees around the axis at 0h30 and turned back at 3:30.
Dragon Bridge: The new bridge opened in 2013, connecting Da Nang airport to My Khe Beach and Marble Mountain. This "Dragon" can breathe fire and water at 21h on Saturday, Sunday and holidays.
Con market: Da Nang and central region largest shopping area. Besides, this is also one of popular visiting places of Da Nang.
Son Tra Peninsula or Monkey Mountain:
Linh Ung Pagoda: Son Tra Linh Ung Pagoda, also known as Bai But Linh Ung Pagoda (distinguished with the Marble mountain Linh Ung Pagoda and Ba Na hill Linh Ung Pagoda) is the largest one of Da Nang city in size and art architecture.
Tien stream and Da stream: two wild beautiful streams located in Son Tra Mountain are popular resting places in Son Tra Peninsula tours.
But beach (But Bay): hiding in a beautiful straits, Bai But is a place of sea and mountains.
Bac Beach: A new destination of Da Nang that is located in the northern bay of Son Tra Peninsula.
 
Eat coast beaches of Da Nang
My Khe Beach: My Khe Beach in Da Nang was recognized as one of the six most attractive beaches of the planet by Forbes magazine.
Pham Van Dong Beach: a public beach built with the capital of 12 billion is considered as an attraction of residents and tourists. Location: Phuoc My Ward, Son Tra district, the East Sea Park.
Bac My An Beach: located in Bac My An Ward, Ngu Hanh Son District, Da Nang with white sand and blue water as well as stable temperature throughout the year are the advantages of this beach.
Marble mountain area
Tam Thai Pagoda is located on the west peak of Water Mountain, one of the five famous Marble Mountains.
Non Nuoc stone carving village: a famous place for marble products. Location: Hoa Hai ward, Ngu Hanh Son district.
Non Nuoc beach: with the length of 5km and pine hill resting place as well as white sand beach and gentle waves along with pure water attracts domestic and foreign tourists.
Suburb
Ba Na is a mountain range in Hoa Vang District Danang that is 40 km southwest from Da Nang. On Ba Na, visitors can enjoy four seasons in a day: morning - spring, noon - summer, afternoon – fall, and night - winter.
Steep and craggy Hai Van Pass: is the overhang of Truong Son ranges to the sea. Besides, Hai Van Pass is the border of the South and North of Vietnam.
Cam Ne mat Village: 14km southwest from Da Nang center, located in Hoa Tien commune, Hoa Vang District has long been known for traditional flower mats that presented in Nguyen emperors' residences.
Over 500 year-old Tuy Loan Village: Located on the southwest, 15km from Da Nang center. Visitors should try Banh Trang and Quang noodles when visiting this village.
Nam O Reefs: there is a reef (local fishermen called Nam O reefs) that is 2 km southeast from Nam O village center (Hoa Hiep Nam Ward, Lien Chieu District, Da Nang - Da Nang is located between the Hai Van Pass). Nam O reef is a home of many species of fish and seafood thank to diverse seaweeds.
Eating places: Restaurants, snacks and Da Nang specialties
Con market, Han market along with some new supermarkets like Metro, Big C, Intimex, Bai Tho, Nhat Linh, and Ocean are main commercial places of Da Nang.
There are many specialties such as Quang noodles, steamed pork rolled with rice papers, pancakes, roast veal, fish ball noodles, fish sauce noodles, dried sesame cake, Nam O fish sauce that can be bought as gifts.
Da Nang delicacy manual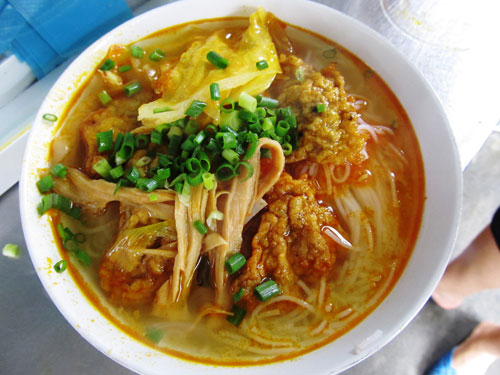 1. Quang noodles
This dish is sold from 9am - 10pm at Hoang Dieu, Phan Thanh Trung Nu Vuong, Hoang Hoa Tham streets. There are also some places selling Quang noodles all day on Nguyen Huu Tho, Nguyen Cong Tru streets. Prices depend on location and bowl size (about 13000-25000 VND / bowl, baked rice cake: 3000 VND / item. Hai Phong Quang noodles, Ba Vi Quang noodles: 20000-30000 VND / bowl)
2. Nam O raw fish salad
You should go to Nam O village for an original Nam O raw fish salad, or else, you can go to Nguyen Tat Thanh Street or Nam O Bridge to enjoy eat with only 40,000 VND/portion.
3. Fish ball noodles
Fish ball noodles restaurants: on Hoang Dieu Street (right next to the HAGL building) operated all day from 7am - 21h, Hung Vuong Street operated all night, Tran Cao Van Street (opposite Tam Toa market) operated from 6am - 10pm. Price is down to 15,000 VND / bowl, traditional one on Nguyen Chi Thanh - Hai Chau district has the price of 20000 VNdD/ordinary bowl and 25000/ special bowl, serving time is from 6h - 22h, peak hours are 7am - 9am and 17h - 20h.
4. Pork rolled with rice paper
To have a full taste of this dish, you should choose restaurants on Chau Thi Vinh Te, Hai Phong, Duy Tan, Le Duan, Do Thuc Thinh streets with the price of 30,000-80,000 VND/portion or Tran, and Mau restaurants.
5. Pancake
Pancake price is down to VND 5,000 / item on Hoang Dieu, Hai Phong Street like Ba Duong. Note: there are some other shops so you should pay attention to their names.
6. Beo cake
In addition to street vendors, Con market Beo cake shops (Hung Vuong gate) or some restaurants on Hoang Dieu, Hai Phong, Ong Ich Khiem streets (operated from noon, only from September to February every year) must be tried. Each small bowl is about VND 1,500.
7. Cau Mong Veal
The most delicious veal is in Cau Mong, Dien Ban District, Quang Nam Province that is 15km from Da Nang such as Ba Ngoc.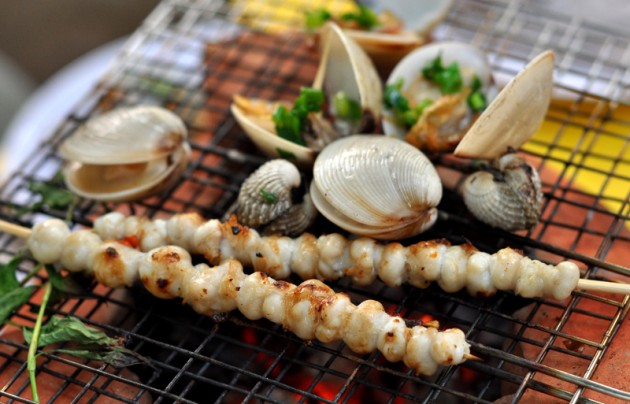 8. Xoa Xoa hat luu sweet soup
There are many xoa xoa hat luu sweet soup shops but he most delicious one is in Con market or some shops on Tran Binh Trong (right in Tran Binh Trong and Ngo Gia Tu fork), Phan Thanh streets with only down to VND5,000 / glass.
9. Unripe jackfruit salad
The best one is on Ong Ich Khiem (opposite Hoa Tho Textile), Pham Van Nghi streets with affordable prices (only about 10,000 VND / dish).
10. Rice papers
The price is from VND 8,000 / dish. The best one is in the alley near Thang Long Hotel, Dien Bien Phu street and Ba Tu on 354 Le Duan with the price of 3000-5000 VND / item
11. Ice cream with steamed sticky rice
Prices range from 7,000-12,000 VND/ 1 cup in Ngo Si Lien street, Hoa Khanh district.
12. Tofu cocktail
You can go to Nguyen Van Linh Street to enjoy tasty tofu with only down to 14.000 VND / 1 dish
13. Yogurt with salt and frozen jackfruit
Yogurt with salt is mainly sold in 3 District, near Nguyen Van Troi Bridge with super cheap price (only 10,000 / tray). Each tray contains 10 jars. In addition to yogurt, delicious frozen jackfruit is also sold for 5000 / bag.
14. Sucking snails
Average price is down to 20,000 and other more delicious snails like stone snails, Pila polita snails cost more. There are many famous snail places in Da Nang like these on Le Duan streets.