Every year, there is the large number of domestic and foreign tourists choosing Da Nang as there holiday destination. This city is famous for its beautiful natural landscape and majestic monuments and diversity cultural and historical places. To help you achive the overall view of this city, CheckinDanang will synthesize the famous tourist destinations following article.
1. Ba Na hills
As an eco-resort, Ba Na is a combination of relaxation and entertainment with modern equipment. Especially, with all year long cool weather, this place is an ideal tourist destination in Da Nang. Going to Ba Na hills, tourists can challenge themselves with the worldwide highest and longest cable car system as well as all-age entertainment places like: love gardens, vineyard, and fairy garden. Especially, there is a beautiful and luxurious French village. What's a wonderful place ever!
2. Hai Van pass – the gorgeous landscape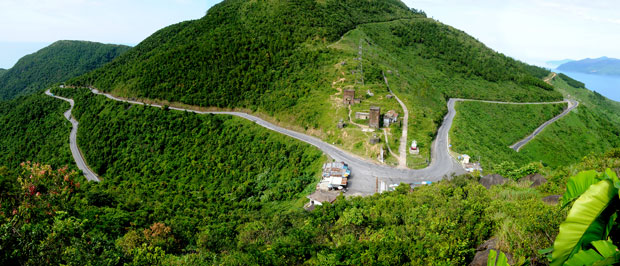 Despite being a very dangerous pass, Hai Van is the ideal place to enjoy the spectacularly mountainous scenery. Formerly, this pass is the only road connecting Thuan Hoa with Quang Nam. The narrow pass with a large number of traffic caused many accidents. Therefore, a mountain tunnel was built to facilitate safer traffic. Nowadays, there are not many vehicles on this pass but a few tourist cars. Actually, travelers go on this pass to enjoy its spectacular scenery. This is also a famous tourist destination.
3. My Khe beach - ideal tourist destination in the summer
My Khe is a must-go beach in Da Nang that was chosen as one of six most attractive beaches of the world. The flat and white sand beach with peaceful waves, warm blue sea under romantic coconut tree shadow is really safe and suitable for water sports.
4. My Son Sanctuary - Cultural Tourism Destination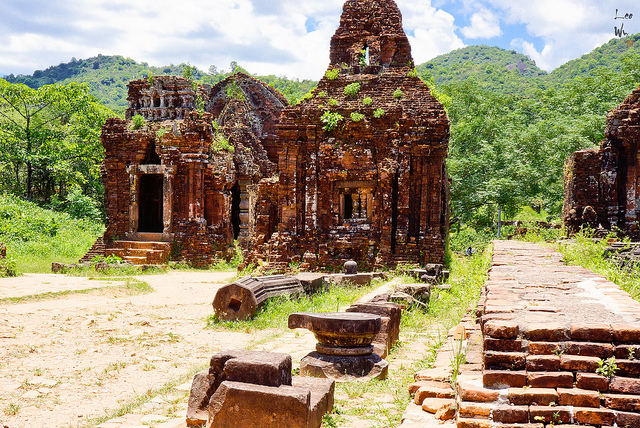 My Son Sanctuary – the old kingdom of Cham people preserves a lot of ancient Cham culture antiques. Nowadays, many temples with sophisticated carvings built since 4th century are still remained. It is the most reasonable destination
for people who love to explore and learn about the history of ancient cultures.
5. Son Tra Peninsula – green Peninsula on the city sideline
Son Tra Peninsula with beautiful sceneries is a reasonable place to rest from which you can enjoy the view of the sea, Hai Van Pass and the entire Da Nang city. Currently, an asphalted road and many beautiful resorts have been built around this island. There is also a resort which is honored as the most luxurious resort of the world for 2 times by World Travel Award. Besides, you can also see some rare animal species such as brown-shanked doucs and some other places as Rang beach, But bay, Bang rapids and thousand year banyan tree.
6. Linh Ung Pagoda – a millennium sacred place.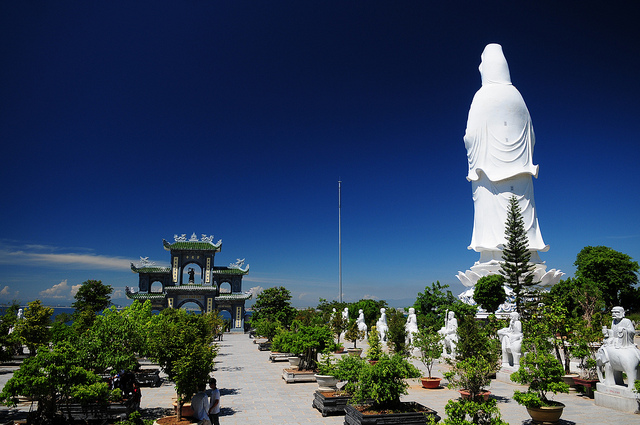 Located on a hill with the shape of sea turtle facing the sea and learning on  the primeval forest with rich flora and fauna, Linh Ung is the largest pagoda of Da Nang city. This pagoda boldly marks the development of Vietnam Buddhism in XXI century as well as humanity and gods gathering place. Bodhisattva statue with the height of 30 floor building humbly protects Da Nang people. This is a holly an beautiful place that facilitates visitors to have the best view of Da Nang city. The scenery here is considered as the heaven that attracts a lot of Buddhists and visitors.
7. Hoi An ancient town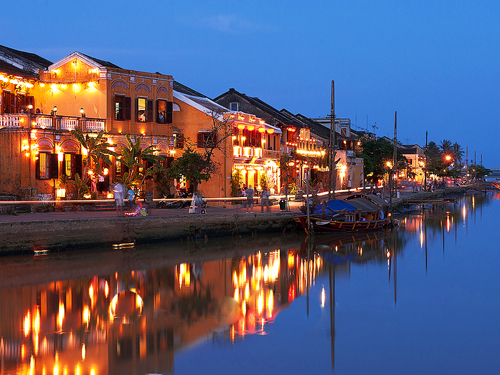 Hoi An ancient town is located downstream from Thu Bon River, Quang Nam city that is 30 km south from Da Nang. In 17th -18th century, Hoi An was the busiest international trading port of Southeast Asia. Nowadays, Hoi An attracts a lot of domestic and foreign tourists by its ancient beauty and gentleness. You can immerse in the world of magic lanterns. Lantern appears everywhere, and creates the sparkling lantern street at night.
Enjoying the wind from Thu Bon river on An Hoi Bridge, visiting Pagoda Bridge, dropping flower lanterns or boating to sightsee Hoi An at night are great activities. A simple and peaceful life is specially loved by travelers. You will be impressed and never want to leave Hoi An.