Da Nang is an attractive destination, known for many famous landscapes, hospitable people and delicious foods. One of the most famous dishes of Da Nang is Mi Quang.
It's deficient if you miss this dish when visiting Da Nang. It's easy to enjoy this dish because Quang noodle is available everywhere in Da Nang.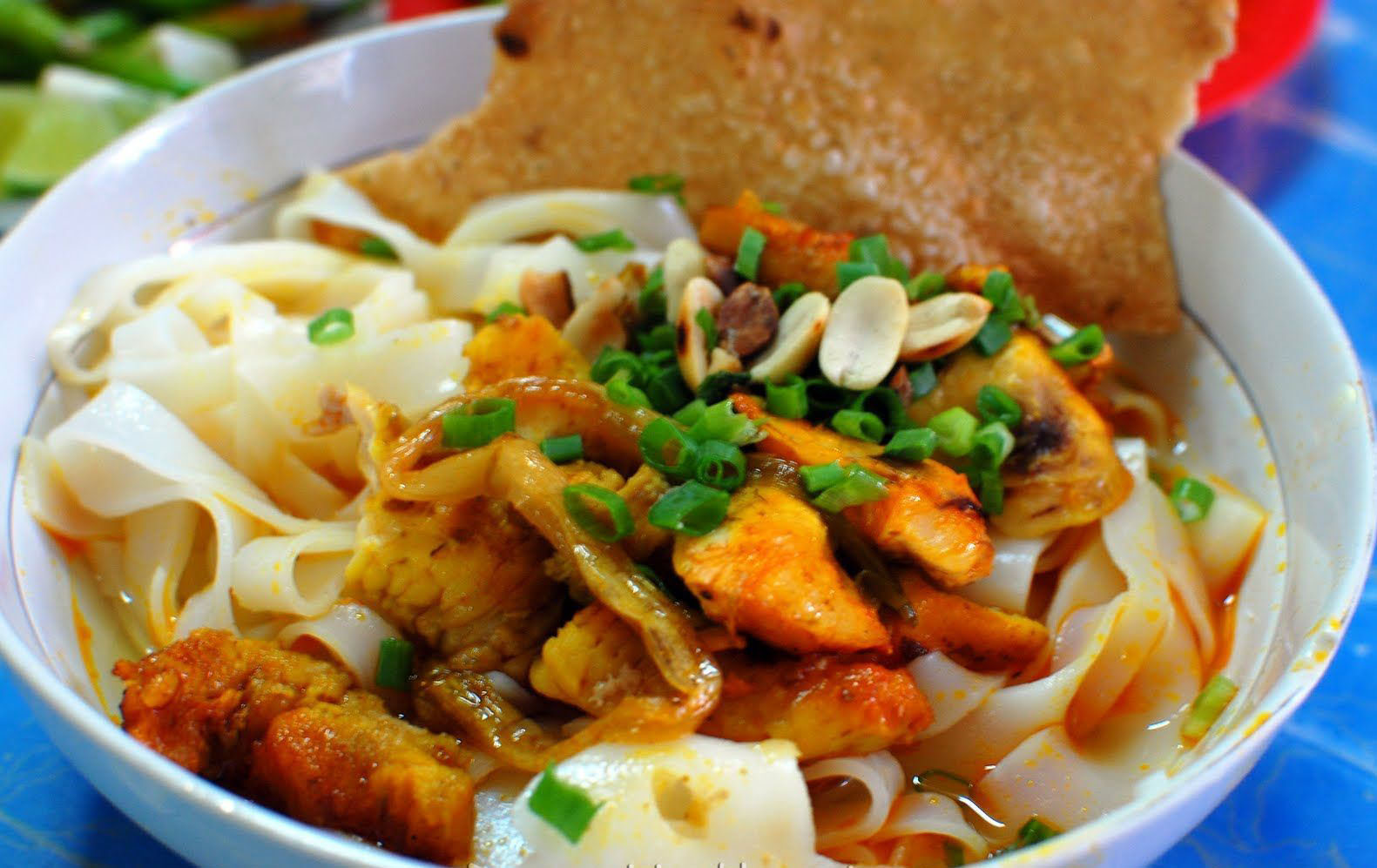 Noodles are usually made from finely milled rice, mixed with some additives for chewy, soft noodles, and then this concoction will be laminated and julienned into 2mm each.
Under layers of noodle are fresh vegetables, topped with shrimp, chicken and a little pork bone broth. Crushed roasted peanuts, chopped green onion, mints and red peppers are added.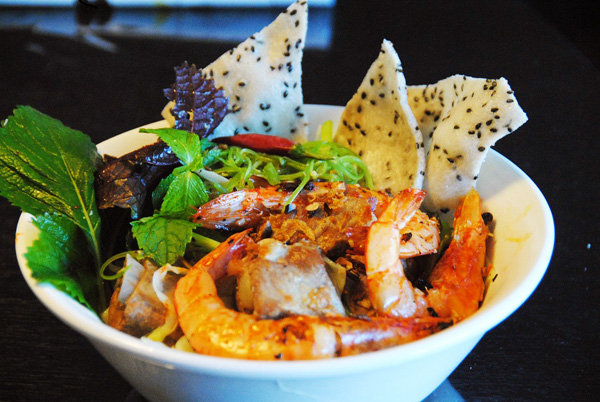 Thi (located at 251 Hoang Dieu Street) is a very crowded, clean and delicious Quang Noodle restaurant with reasonable price (from 18000 to 30000 VND, depending on each type, such as chicken, egg, frog and snakehead noodles. You should try extremely tasty special noodle that costs 30000.
Ba Mua (at 19 Tran Binh Trong Street) is a very popular restaurant in Da Nang with a lot of branches. Quang noddle here is delicious but it's rather expensive – down to 25000/bowl).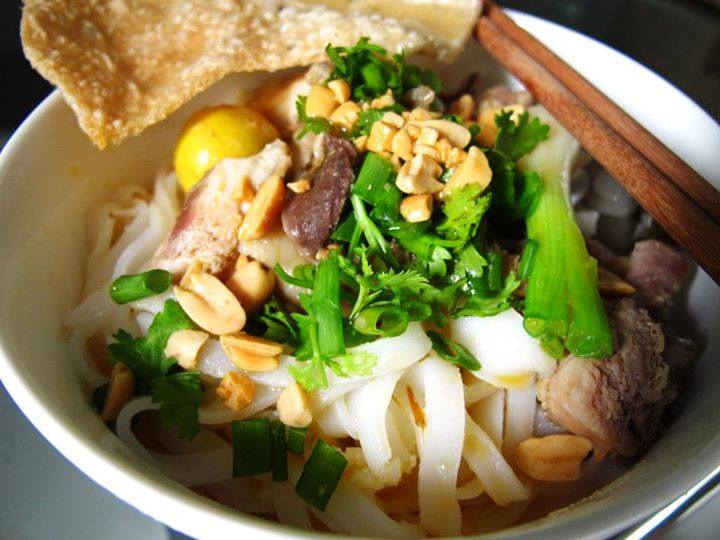 Ba Vi (at 166 Le Dinh Duong - Da Nang) is a good place to enjoy delicious Quang noodle; especially, fried spring rolls put Quang noodle taste to perfection. A bowl of it costs from 30.000 to 55.000 VND.
1A Hai Phong Quang noodle restaurant has 2 main types of Quang noodle: shrimp and chicken. Besides, you can enjoy special noodle with higher price. Prices here range from 25,000 to 30,000 VND / bowl.
Recently, a fresh type of Quang noodle has appeared. Its name makes people curious – Quang frog noodle. Frog broth is used instead of shrimp, meat or chicken, which brings delicious but innovative taste.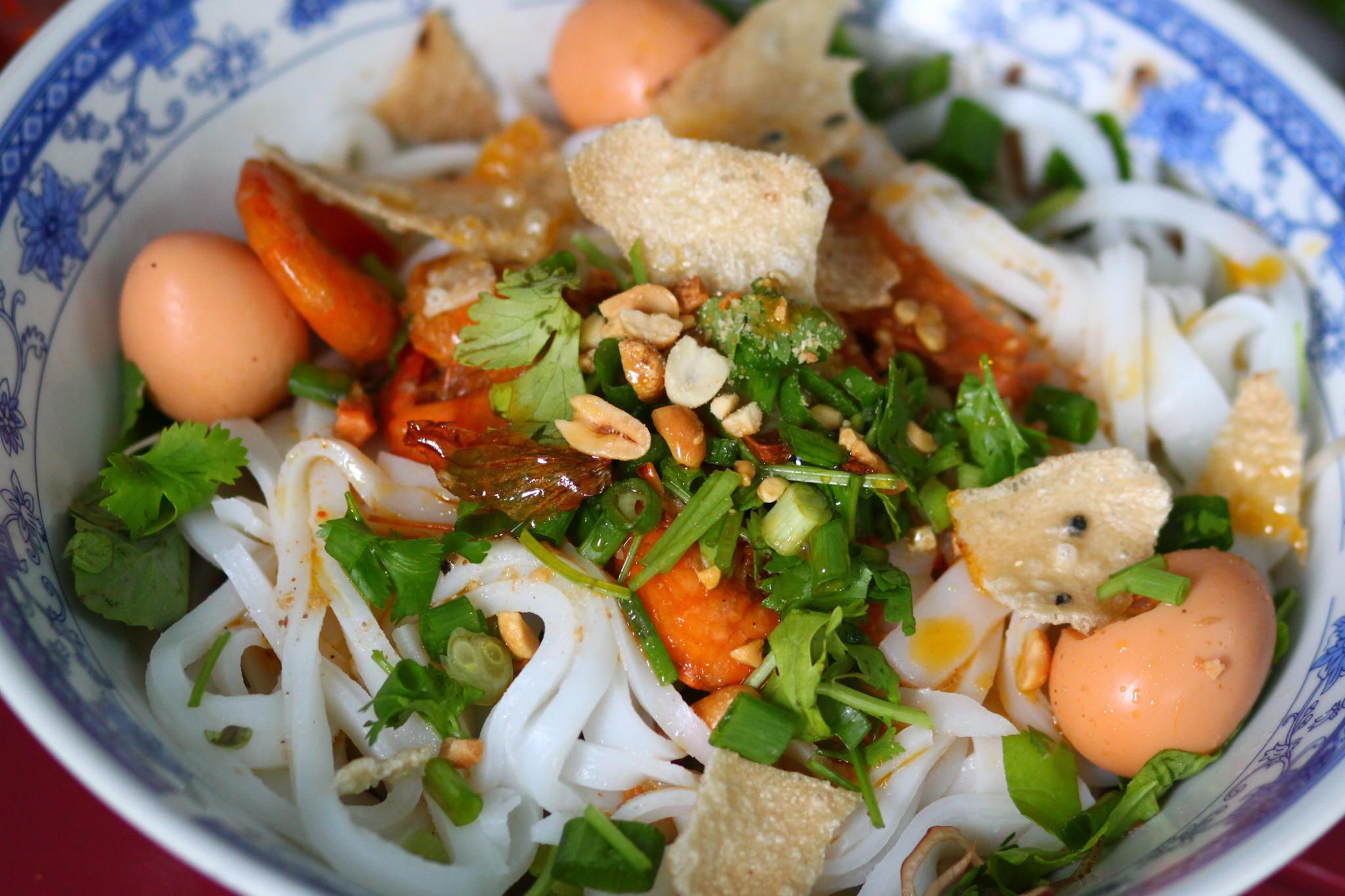 My Quang Ech restaurant (at 441- Ong Ich Khiem Quang or 24 - 25 Le Hong Phong) has many Da Nang local foods including Quang Frog Noodle with the price of down to 28.000/bowl. There are also a lot of other delicious noodle restaurants in Da Nang.
The only difference of Quang Nam Noodles and that of Da Nang is that most of noodles in Quang Nam are cut by hand, resulting in non-eye-catching noodles (Da Nang noodles are cut by machine). However, you will have chance to admire a skillful cutting noodles show, which is also a special thing of local culinary culture here.