Da Nang is known as an ideal destination for domestic and foreign tourists. These are 7 wonderful destinations in Da Nang for Death Anniversary of the Hung Kings
Beautiful beaches in Da Nang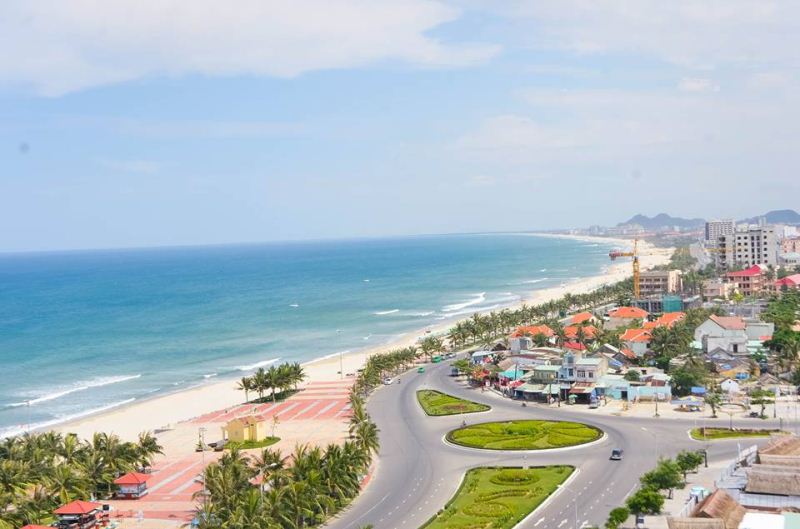 Da Nang is famous as the most modern city of Vietnam, an ideal place of domestic and foreign tourists. When talking about Da Nang, people always mention about 60km long coastline with many beaches like Pham Van Dong, Non Nuoc Thanh Khe, Nam O, My Khe – one of the 6 most charming beaches of the world. There are also many types of water sport as canoeing and parasailing.
The Death Anniversary of the Hung Kings holiday will last for 3 days; therefore, relaxing in the beach with family is the best choice. However, there will be many tourists there so early arrival and booking are necessary.
Son Tra Peninsular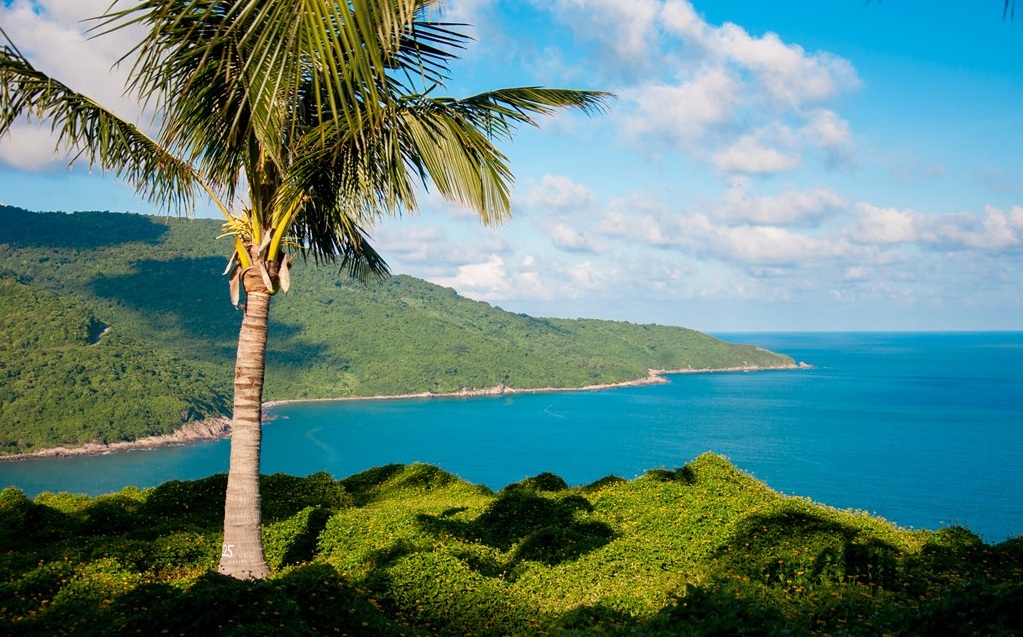 10 km from Da Nang center, Son Tra Peninsular is considered as the green lung of Da Nang thank to the nature reserve that preserves diverse flora and fauna. Here are some places that travelers can visit on this peninsular.
- Sacred Linh Ung Bai But Pagoda: this pagoda has a unique architecture. The highlight of this pagoda is the Quan Yin status with the height of 67m that is considered as the highest Buddha statue of Vietnam. It learns against the mountain, faces to the sea. From here, people can see the whole view of Son Tra Peninsular with azure waves in daylight, sparkling lights at night, and vaporous Cham island in fog.
Thousand year old banyan tree: The unique over 1000 year old tree is 26m in height facing the sea. Its giant rootlets deeply striking into the ground create a strong frame. From here, tourists can also go to Dieu Hau peak by a path leading to the beach. The way to that peak is so difficult to find that it's better to have a local guide.
Although travelers have to cross many slopes and steps to reach Ban Co peak, it's worth going. There, people can enjoy the cool and fresh air and the whole view of Da Nang with mountain, sea and sky. The highlight of this peak is the status of a god playing chess. In cloudy day, that peak looks like an Elysium. That is the reason why gods came here to play chess.
- The heliport and radar station: the heliport was built in 1965 by the American army, serving transportation of weapon and food during the war. At present, this fallow land remains the war ruins through stone steles. The green grass also becomes a beautiful photo setting. Nearby, the army radar station dated back from 1960s, considered as "Indochina Miracolous Eyes".  From the head – quarter, one can view and control a far distance ocean. This place is now managed by the Vietnamese army and become an important geographic position. Because of being under the control of armed forces and used in sovereignty protect, travellers cannot visit radar station directly, they can take photos with the three white shuttlecocks.
- Watching brown-legged langurs
The unique feature of the Son Tra Nature Reserve is the existence of about 12 herds of brown-legged (or five-coloured) langurs, scientifically known as pygathrix nemaeus.
 
Ba Na Hills
Ba Na Hills is a n indispensable place in Da Nang that is only 29km Northwest of the center. In early 20th century, Ba Na was a famous relaxing place of Indochina that served the French. There are 4 seasons in one day in that place: spring in the morning, summer at noon, fall in the afternoon, and winter at night. This is also the home of many rare fauna and flora.
Nowadays, Ba Na is being rebuilt to a luxurious resort. There are many places to visit here like French village, Fantasy Park - indoor amusement park, Le Jardin D'Amour – the flower garden of love, Debay – the wine cellar, and the funicular.

Cham Sculpture Art Museum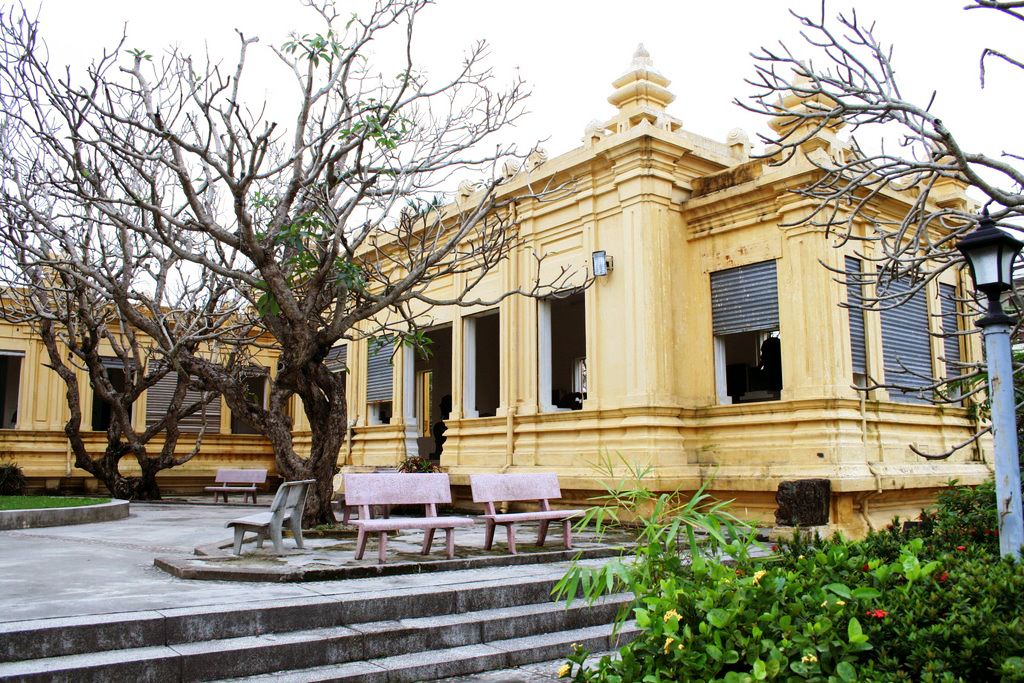 Cha
m Sculpture Art Museum is a large-scale building that has an important meaning to Da Nang and Vietnam. Situated on Han River bank and the intersection of Bach Dang and Trung Nu Vuong Street with the total area of 6.673m2, Cham Sculpture Art Museum has over 500 original exhibits in different sections.
There are also restoration workshop, storehouses, and working rooms in addition to display rooms. With its scale and diverse collection, Cham Sculpture Art Museum becomes the unique museum of the world.

Sun Wheel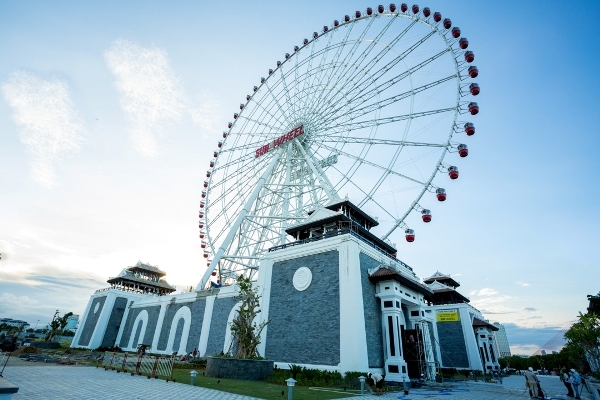 Sun Wheel is the first building that is completed in Asia Park and has become an attractive destination of Da Nang. This wheel is located in Asia Park that is designed by Bill Bensley - one of five famous architects of the world, who has designed Intercontinental Da Nang Sun Peninsula Resort.
Above 
Sun Wheel has been recognized as one of 10 highest wheels in the world (in June 2015) with 980 ton weight and 64 cabins. It can serve the maximum of 348 people per 15'. On this wheel, visitors can enjoy the whole Da Nang at sparkling night or in fanciful sunset.
Operating time: 17h – 23h
Hoi An ancient town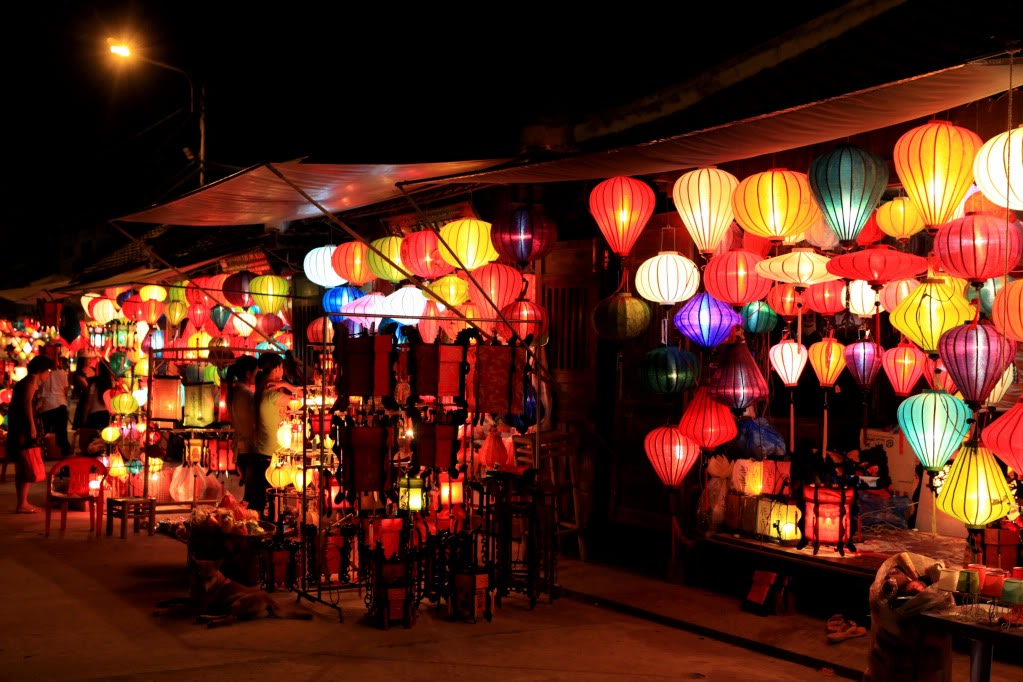 Hoi An ancient town is located downstream from Thu Bon River, Quang Nam city that is 30 km south from Da Nang. In 17th -18th century, Hoi An was the busiest international trading port of Southeast Asia. Nowadays, Hoi An attracts a lot of domestic and foreign tourists by its ancient beauty and gentleness. You can immerse in the world of magic lanterns. Lantern appears everywhere, and creates the sparkling lantern street at night.
My Son sanctuary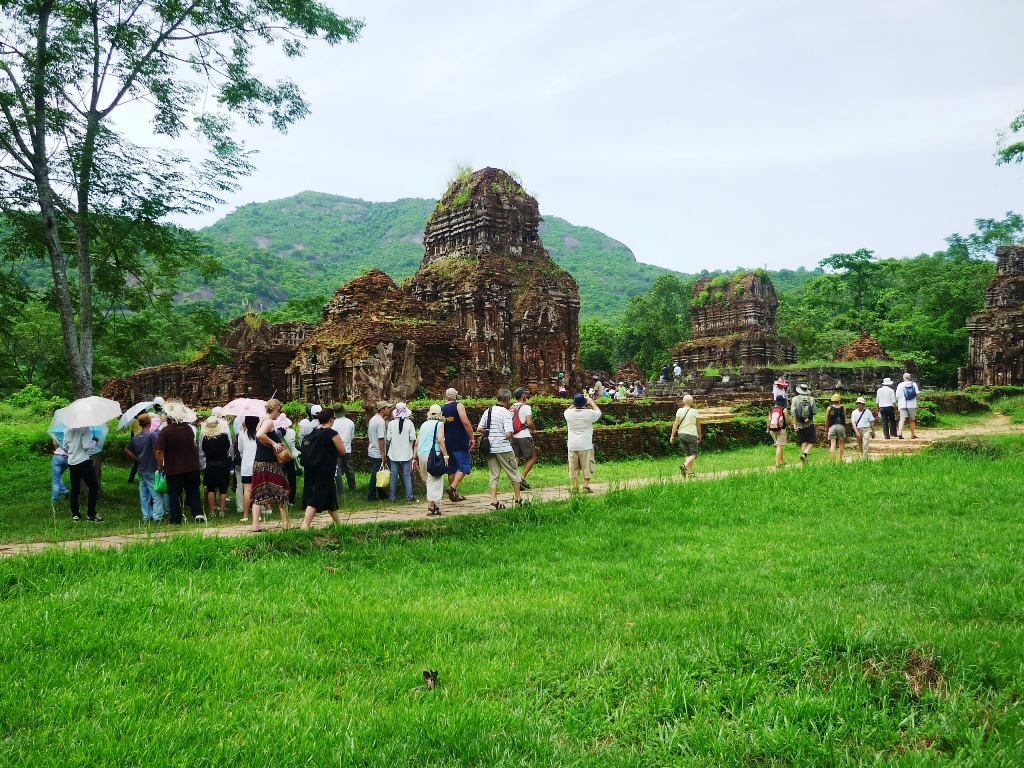 My Son sanctuary is situated in an august mighty valley complex. The Holy Land with more than 70 tower-temple architectural structures of Cham Pa civilization retaining  historical, cultural, architectural and artistic values from 9 centuries' time (from 4th – 18th century), is regarded as monumental as other renowned relics in the region of South East Asia such as Angkor, Pagan, Borobudur. Time and the wars have severely impaired the relic. Still, the remainder in My Son plays a critically important part in world historic architectural heritage