It's deficient that anyone goes to hue has not tasted mussel rice. After eating it, you will never forget the bold flavor of it.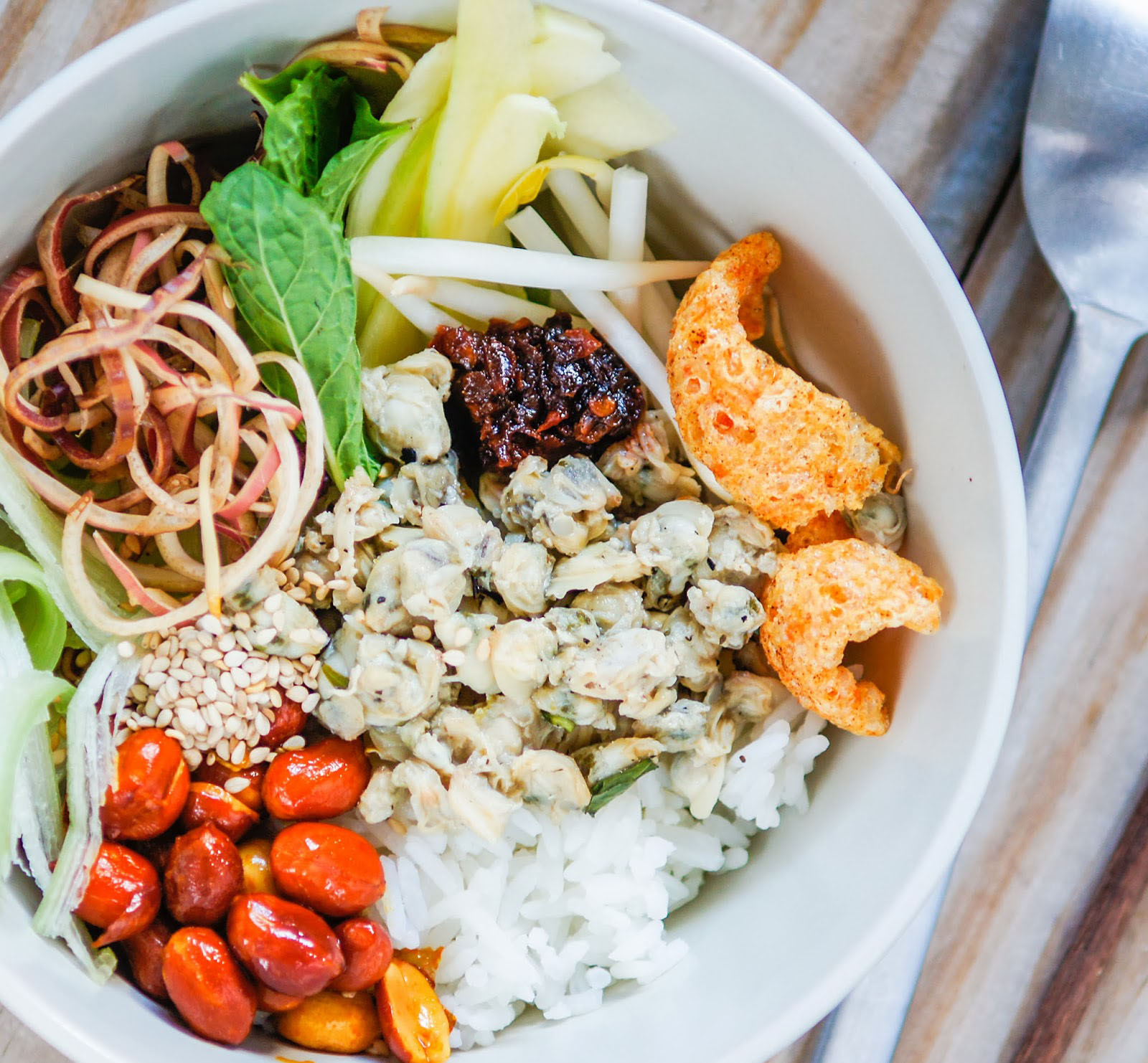 Popular class dish
Mussel rice has long been considered as a traditional dish of Hue. Especially, mussel rice originated in popular class, then offered to the king, and finally come back to its origin. Although this dish can be fancier with sophisticated cooking process, it's still a bold rustic dish.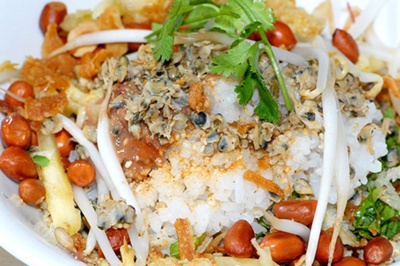 Homely ingredients
Mussel rice is a culinary specialty of Hue. That includes mussel broth with cool rice, some vegetables and spices. Mussel rice presented as cold rice mixed with stirred mussels over oil and spices. For preparation, mussels are soaked in water for a while to empty mud and then washed, boiled until mussel shells opened. The broth will be reserved and mussels will be poured out and sorted out for mussel lean. Mussel lean and mussel broth are main ingredients. Moreover, other spices are also indispensable.
Others include: sour star fruit, herbs, julienned banana flower, fish sauce, pepper, fried onion, sesame salt, greaves, dried fried pigskin, raw shrimp sauce, roasted peanuts, dried chili stirred with oil. The special and full flavor of this dish is created by diverse ingredients.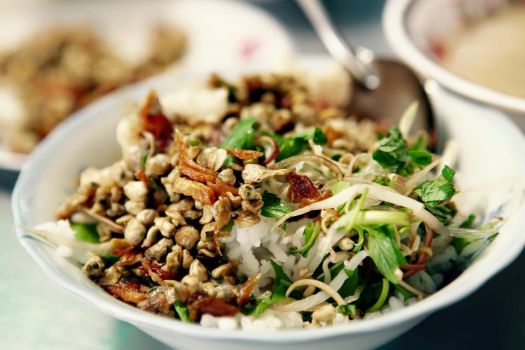 All materials but mussel broth kept cool. A mussel rice bowl is a mixture of all ingredients. Mussel rice is usually eaten with spicy chili, while mussel rice noodle is probably eaten without broth. From the original dish, more and more variations as rice mussel noodles have appeared. The only difference of these variations is the change of material (from rice to noodles). The main ingredients may be adjusted but spices and cooking process have not changed, which contributes to the richness and variety of the dish.
Essence of the old capital cuisine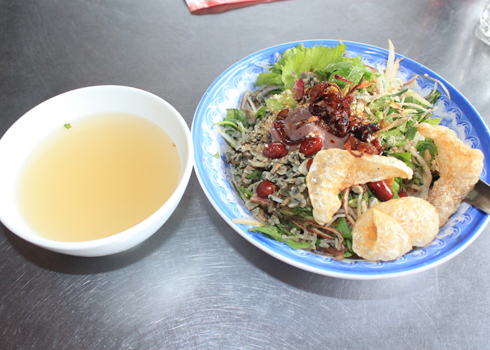 Despite experiencing vicissitudes as well as changes of history, mussel rice still plays an important role in the culinary treasures of Hue. The mussel rice seller said that: to make a good dish, left-over rice must be used to maintain crispy fresh vegetables and the original flavor of spices. It's strange that Vietnamese tend to eat fresh rice but mussel rice. It seems that in Hue people opinion; there is nothing worth wasting so they save every grain of rice?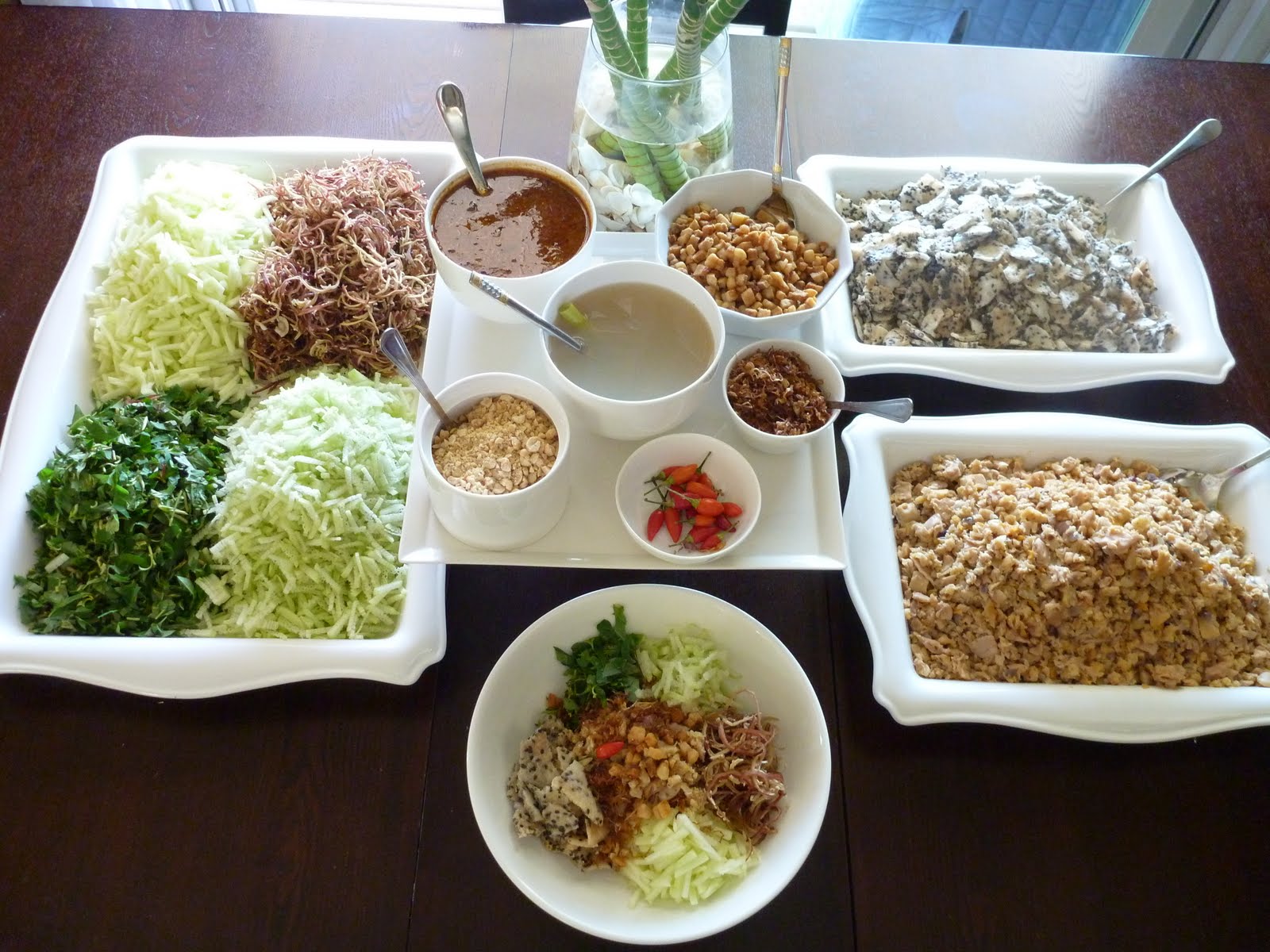 Although mussel rice is brought to many places, anyone who has eaten mussel rice in Hue affirming that only mussel rice there is extraordinary, delicious and charming because mussels must be taken from Con Hen; moreover, vegetables and others should be plant on Vi Da village garden.
As soon as coming back to Hue, Hue people will certainly enjoy this dish. It's also used as a daily dish of all Hue citizens for breakfast, lunch, dinner, and even late night. It seems that Mussel rice creates manners of people here; whereas, this land blows spirit to the dish. It only makes sense when eating mussel rice in Hue because you can fully enjoy rustic but delicious and spicy dish.