When visiting a new area, there are so many things to explore, experience and remember, but the most unforgetale thing is local food. Cao Lau is one of these local food. It is the soul of Hoi An cuisine that reminds people of this attraction.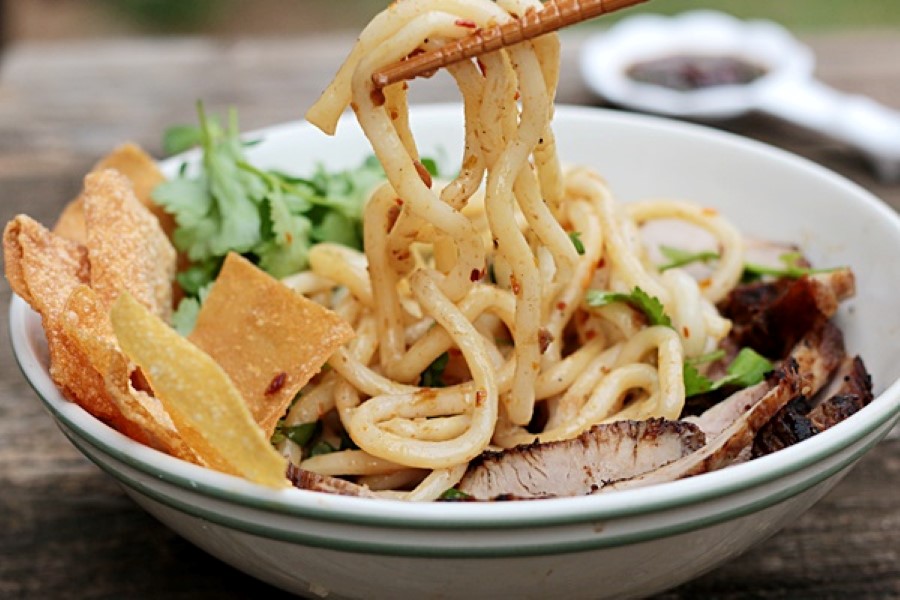 Almost all tourists to Hoi An want to try Cao Lau which is considered as a specialty of Hoi An. This dish has yellow noodles, eaten with shrimp, pork, crispy fried pork skin, acompanied with fresh vegetables and a little broth. Yellow noodles created by the mixture of a local plant ashes and rice flour.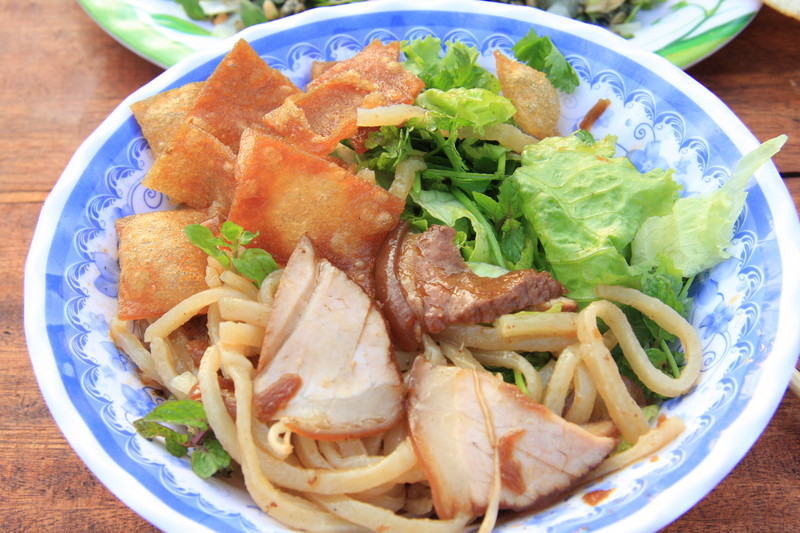 At first glance Cao Lau noodle looks like a normal noodle, but it is not. This dish is not well-known due to its humility. It was argued that Cao lau was brought by Chinese traders to this port in the last century; however, oversea Chinese here did not recognize it. Whereas Japanese said that the noodle looked like their udon noodles but it tasted and processed differently.
The Quintessence of Cao Lau is the noodle, usually meticulously prepared. First, fragrant rice will be soaked in ash water. Ashes must be taken from cooking firewood in Cham Island, an island located in 16 km far from Hoi An. Thank to this special ashes, noodle becomes chewy, sticky and dried. Second, this mixture will be thoroughly filtered and milled with fresh and cool water taken from Ba Le well, digged by Cham people thounsand years ago.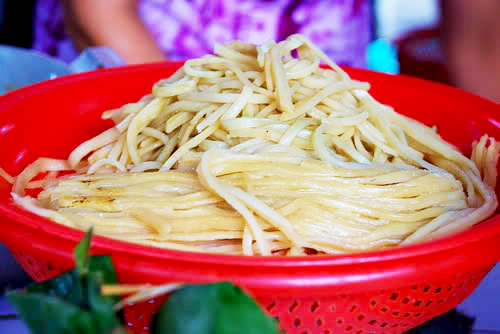 Then, this mixture will be thoroughly filtered and milled with fresh, cool and alum-free water from Ba Le well, digged by Cham people thousand years ago. Next, the mixture shall be filtered by cloth many times to make pliable and dry flour. This flour will be roll into suitable layers and sliced into long and thin pieces. These pieces become noodle after multiply steamed. Therefore, after a night the well steam noodle will not go off.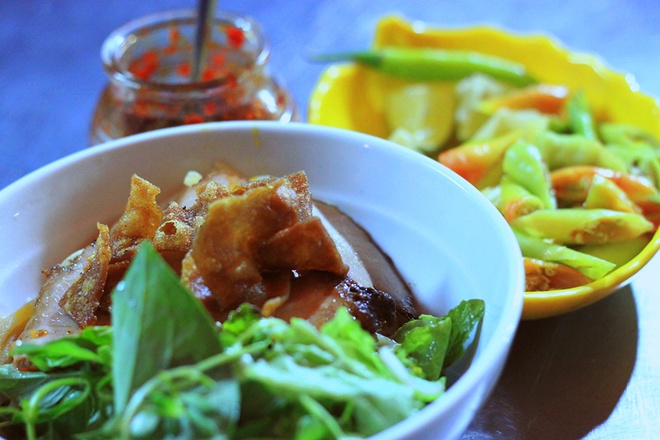 Normally, Cao Lau is eaten with beansprouts dipped in to hot water and fresh vegetables taken from Tra Que – a famous tranditional village. Putting this beanspouts into a bowl, adding noodle, Xa Xiu (roated or grilled seasoned pork), Top Mo (fried crunchy pig skin) and a teaspoon of pig fat. For a good Xa Xiu, it's essential to use grass pig that has firm, flavorful lean and a reasonale proportion of lean and fat. When eating a bowl of Cao Lau you can enjoy the chewy noodle, full taste of fresh vegetable, fish sauce, flour, soy sauce and crunchy Top Mo.
To fully experience the peotic feeling, people often sit on high floors (cao lau) when eating Cao Lau. It's told that trader in the past usually did that to be able to watch there goods. Therefore, Cao Lau restaurants in Hoi An are frequently located in high floor to facilitate customers to enjoy it with pictureque scence. Perhaps. this is also the origin of Cao Lau name.